Amy Traggianese | March 2017
Art Bots: STEAM for Art Teachers
As soon as I read the words "Affordable Art Bots" workshop, I was in! A robot that makes art? And they are affordable? This is STEAM for art teachers and I was hooked. I knew I had to find out more about it and see if it was worth bringing this experience to my elementary students. I look forward to the yearly National Art Educator (NAEA) Conference, it is a great place to meet teachers you "talk" to online face to face (finally!) and, of course, to learn something new.
Imagine twenty art teachers playing with pool noodle pieces, battery-operated toothbrushes, markers and googly eyes. You can see it, right? Problem-solving and fun all wrapped into one! We experimented with inserting the toothbrush into a piece of pool noodle, added marker "legs" and gave it a whirl! We learned that if the toothbrush and markers were adjusted the robot could move more, or move in different directions. Adding eyes, mustaches and other features were the icings on the cake.
Arts Bots in the Classroom
Even though this was fun for art teachers, what's in it for our students? The National Core Arts Standards (NCAS) are process based. In my choice-based art room, students create their own original art, ask and answer their own questions. Across the all of our new teaching standards: ELA, math, science, art, teachers are encouraged to step back and allow students to identify and solve their own problems.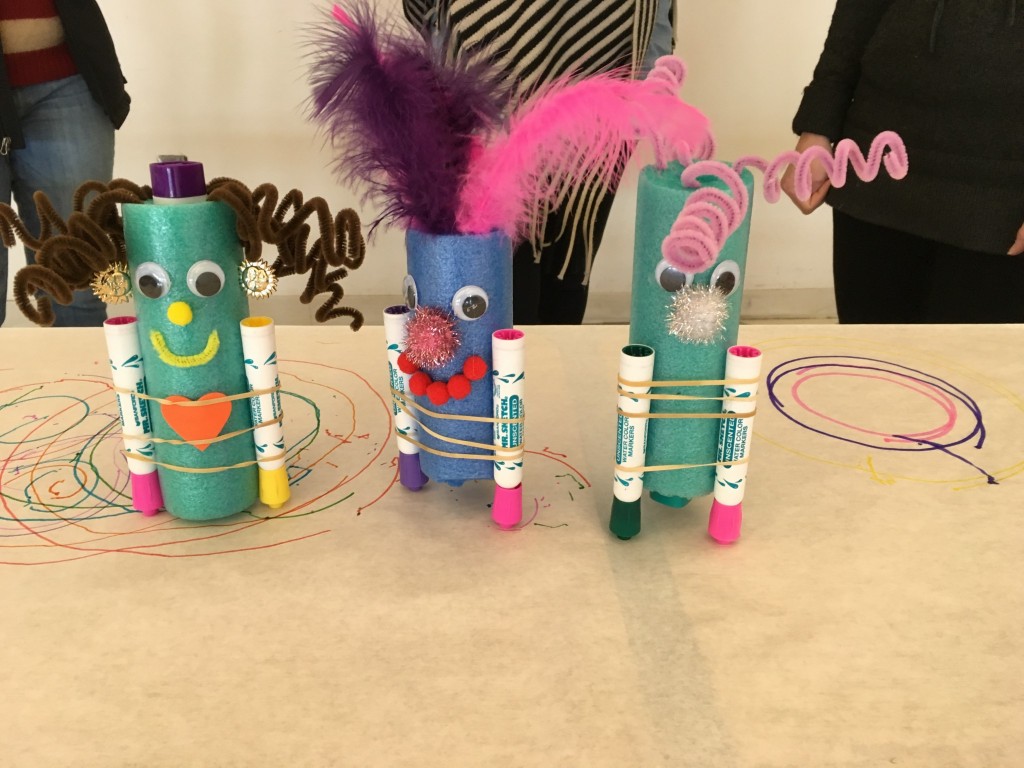 Three art bots made by educators at EdCampSWCT
Last week, I brought my Art Bot to school and had my students experiment with him. They changed him as needed. This photo shows what two third grade students created out of cardboard as a solution to help Art Bot stand up. And it worked!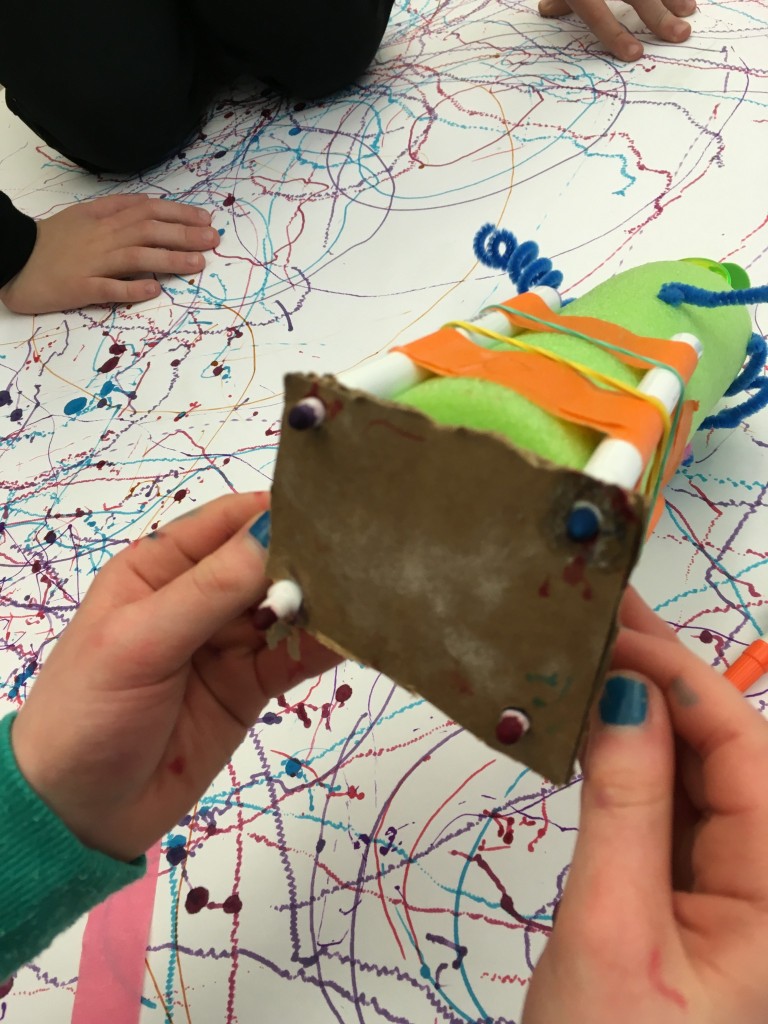 Last Saturday, I facilitated an art bot session with teachers who attended an EdCamp in Southwest Connecticut. At the end of the day, two teachers were very excited about creating art bots with their students. One, a preschool teacher, couldn't wait to have her students talk and write (together as a class) about art bots. The other was a high school creative writing teacher who was looking forward to having her students create an art bot and write about it.
Making the Connections
This activity covers visual art, engineering, art creation, problem-solving and can fit into STEAM, STEM to STEAM, science, visual art, maker spaces and arts integration programs. All you need are some dollar store items: pool noodles, battery-operated toothbrushes, markers, tape, rubber bands, masking tape and craft supplies to decorate your robots.