EPISODE 23: THE STORY ABOUT
Bridging the Gap
with Arts Integration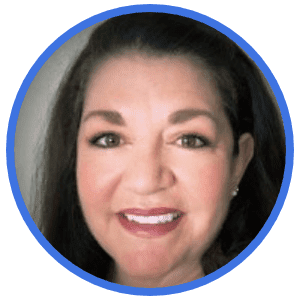 More Ways to Listen:
Podcast Transcript
To help them see beyond their circumstances, the arts is certainly the way that we bridge that gap.
Jamie
Have you dipped a toe into the arts integration or STEAM pool and now you're hooked and looking for bigger, better or more? Then this is the episode for you. I'm Jamie Hipp, and this is Teaching Trailblazers, a show about teachers, artists and leaders in arts integration and STEAM. Today we chat with Dr. Karen Crocco, a former band director, mentoring and induction expert and instructional specialist for the arts in St. Lucie Public Schools in Florida. Welcome Dr. Crocco. We are thrilled to have you today.
Karen
Well, thanks, Jamie. I'm glad to be here.
Jamie
Yes, we're glad you're with us spending a little time. So you're an instructional specialist for visual and performing arts. Are you an expert in each artistic discipline? Tell us about your background in the arts and how you you spend your days.
Karen
Hey, absolutely. I am not an expert in every visual or performing arts there is. As you mentioned in the intro, I'm a band director by trade. I'm very fortunate that I spent a lot of time in both middle school and high school. So I would say I'm a secondary expert for sure. But I've gotten to dabble in elementary school. And I have you know, friends, all us art people, we wind up, you know, getting together. So, you know, I have friends and all, but I would say, I don't say that I would say I'm an expert, but I'm certainly well versed in what it takes to nurture creativity, and that deep cognitive push for kids, you know, in all disciplines of the arts. And so it doesn't matter that I don't understand how to, you know, sculpt clay or to mix watercolors or to, you know, have great body posture, but I am knowledgeable about nurturing creativity, and the creative thinking that can happen in an arts classroom. So I think that really helps me as an instructional specialist in the visual/performing arts. I get to help teachers, be the best teachers, they can be for their students. I don't have to be good at the craft, but we can really put our heads together to see how we can just everybody can have a better time and do better in their art discipline.
Jamie
I love it. So they have the subject matter expertise, like you were saying with the sculpting and you're thinking more about the facilitation of the learning process and the pedagogy. That's fantastic. So, in your work currently in St. Lucie Public Schools, are you working mainly with arts educators and classroom teachers on a daily basis? Or are you in direct contact with K 12 students and working with them?
Karen
Well, the answer is really yes to all of the above. Um, so I work mostly with arts educators. St. Lucie Public Schools was the recipient of a federal discretionary grant called professional development for arts educators, which funds a project in our district called the Medici project. And we chose the name of Medici because we really wanted to bring that Renaissance understanding to what was going on in St. Lucie Public Schools, because this grant was written as an arts integration grant for the arts and sciences. So in that, you know, as we all know, from our history, whenever, however, we look at, you know, the Renaissance, but that was certainly, you know, a birthing place for what's led to everything that we have, you know, today. So, through that project, I work with mainly those teachers in the project. I do, you know, we're trying to build capacity and we float out what we're doing, but I work in classrooms with those teachers and students directly, so most of the arts teachers, every art teacher has what we call science buddy or who is a science buddy. So, because like, I'm not an art expert in, you know, dance or you know, ceramics, our arts teachers are integrating their arts with science teachers. So the science teachers are the area experts. So those are who I work with in the planning and assessment phases. But I do get to actually go into classrooms, and help arts teachers by modeling things for them by trying things that they want to see them for. Sometimes you want to try something new in a classroom, and you want to see somebody else do your idea to help you better that. So I do get to work with kids, which is great, you know, I get the best parts of the classroom, but those are who I work with. So the answer is yes. I mean, I get to see teachers through all phases. You know of their practice.
Jamie
Wow, that sounds fabulous. And I've done a little research prior to us meeting today about the Medici Project and I see that you guys also bring in a community partner aspect. Can you talk a little bit about the community partners that you guys work with, which I think is such an aha moment for a lot of schools?
Karen
Yeah. What I will tell you speaking honestly, that's been a challenge for us because, um, St. Lucie County is between I don't know if people know where it is, geographically. We're about halfway between Orlando in Fort Lauderdale on the east coast. So those are really more cultural centers. We don't have a lot of we don't have a thriving cultural community here. We do have culture. We have A.E. Bacchus Gallery. A.E. Bacchus is a painter laureate of the state of Florida. And so we've partnered with the Bacchus Gallery to do um… Our art coach put together a lesson where the teachers got to go in. And the teachers worked on their professional art skills by looking at Bacchus paintings and then trying to digitize their creations based on works that they were observing with the Bacchus Gallery. We also have arts educators. We're very fortunate to have some very fine retired band directors. James Sammons comes to mind right away. He's a Hall of Fame Member in the Florida Bandmasters Association. And so he will actually go into classrooms and model things for band directors. He will help them plan to help listen to audio tapes with them. So we have teachers going to community art partners, and working with them. And we have community art partners coming actually into the classroom.
Jamie
Love the scope of this. I mean first of all, congratulations on being the recipient of this amazing grant. But the tangible things that you're telling our listeners today about what's happening at the at the school and in the classroom level I think is just so important. Let's talk a little more about your district. Thank you for telling us exactly where it is on the on the Atlantic side. Okay. I want to know does your district have tons of money and resources when we think about funding arts integration people think they this can get very expensive very quickly. What kind of district is this and is it all arts magnet schools?
Karen
Oh gracious me. No. I held in my reserved which is cackle laugh because that's really funny.
Jamie
Oh, that's totally allowed.
Karen
We do not have a ton of money. We're title one district.
Jamie
Okay.
Karen
Um, when we applied for the grant, the numbers that we pulled out on our debt demographics were very unfortunate – that 25% of our children between five and 17 years live in poverty. And that's 65% of our students district wide are what we would be considered academically or economically disadvantaged.
Jamie
I see.
Karen
82% of our students are on free and reduced lunch. So we are not – you know, our residential tax base is not very high at all. So we are not a rich or a wealthy district by any means. But for us, that was the reason to really start thinking about the arts integration initiative. Because these students to help them see beyond their circumstances the arts is certainly the way that we bridge that gap.
Jamie
Wow, so important and vital and crucial work that you guys are doing. So how can our listeners' schools prepare to begin integrating the arts or let's say they're already versed in arts integration, how can they grow?
Karen
Well, I think, I'm not sure if you mentioned the arts integration and STEAM conference this summer.
Jamie
Oh, I'm going to get to that, Dr. Crocco. Because we, we want a teaser of your session, I'm going to get to there!
Karen
Awesome. But um, that's where we started with our our participants, is that we really had to just get everybody who was interested in the initiative to understand. So you know, and I want to talk about this in two different ways. And my session is really geared towards one thing, but sometimes when people who aren't in our project, because we do have a couple of schools in our district, because there are other magnet status, they couldn't be a part of our grant. So when they talk about what I can do, what are you doing, how can I do that, who can support me? You don't have to have a lot of money to do arts integration on a classroom basis.
Jamie
I want you to say it again for people in the back row. Let's say it again. I want to repeat it with you, this mantra.
Karen
Yeah, it is not expensive to do arts integration. Okay, arts integration is a learning model. It's not about computers. It's not about tubas and violins and you know, all this expensive equipment. It's nice to have a grant to buy some things to facilitate those things. But it's about learning. You know, arts integration is how we teach kids, how we get kids to learn. And that's, that's in your ideas, and that's in your practice. I really think that so when I talk to teachers, I mean, 100% of the time, they say, I heard so and so did this. How can I do that? Within 45 minutes, we've sat down and looked at their lesson plans and the resources and they're like, I'm gonna try this on Monday. 100% of the time.
Jamie
Building that capacity. Yes. And I love, I love that you said that it is an approach and a strategy and accessible. I think that's so important for all listeners who might not be, who might not consider themselves to be arts integration specialists at this point as they move their practice forward, building that capacity. Very, very important. So you brought up the Institute and I love to hear, and we hear this a lot, that that connection between the Institute for Arts Integration and STEAM being that jumping off point for teachers into their arts integration and STEAM journey. So you are presenting at this summer's connectivity conference 2020, I'm so excited about it. Can you give us a little teaser of your session?
Karen
Please, pull my arm! I would absolutely love to tell you, you know about and what we were just talking about leads a lot into my session. So as I mentioned earlier, we won a discretionary funds grant. So it was almost like somebody shot off a gun and said go, start arts integration tomorrow. And once we got into the grant about a year and again, you have to remember we're doing a systemic integration. Okay, an initiative that runs over almost 20 schools. So it's much larger than just doing something in your classroom. And I think what my session is mostly about is that if you want to do something that's school wide or district wide, what are the things that you have to think about to lay the proper foundation?
Jamie
Okay, like logistics!
Karen
Like logistics, like attitude, like skill sets of your arts educators, about mindset of your core content teachers, that how are you going to generate by it.
Jamie
I love the scope of this session already, even though you know, I've got to wait till July to participate in it. I love the scope because we have so many listeners, of course that maybe do an arts integrated lesson once a month, once a semester, but now getting school wide buy in and building school wide, district wide capacity with these logistical steps. I think that that is critical. So oh, we're we're so excited to learn more between now and then how can we find out more about your work, the Medici Project and more about the amazing arts and arts integration happening in St. Lucie Public Schools?
Karen
Well, we do. We roll stuff out through our district. We don't do our own site, you know, again, here we are, again in school board policies and how they do stuff. So um, you know, St. Lucie Public Schools has a Facebook page and we have a website. Some of the work you know, I do I roll out through other venues. When I do work for, like our state organizations and things like that, but you know, we just kind of do things we hope that you see the product of our work through our students, and what they're doing more from a grassroots level.
Jamie
Teaching Trailblazers is a production of the Institute for Arts Integration and STEAM, and I've been your host Jamie Hipp. This podcast is produced, edited and mixed by Jaime Patterson.