What's more fun than a STEAM Design Challenge?  There's so many opportunities for hands-on learning and experimentation.  And the fact that students are the drivers of the lesson is even better.
But how do you set one up and make sure it's effective?  If we're not careful, these challenges can be just another arts and craft project.  The key, as always, is the intention with which you're creating and using the challenge.  Here's a guide for making these STEAM Design Challenges creative and useful.
SETUP
Before you begin any challenge, make sure you have the following:
Dedicated space for materials

Labeled organization bins

Variety of materials and found parts

Safety rules clearly posted

Anchor charts if necessary (for example: the different types of attachments)
CHALLENGE PROMPTS
Your challenge should be grounded in curiosity, problem-solving and creativity. Here's some challenge prompts that will instantly engage your students:
Build an unsinkable boat.

Create a piece of furniture without any attachments.

Create a sculpture that makes music in the wind.

What problem can you solve using just the materials on this table?

Design a shoe inspired by nature. How might you use this in various habitats?
CONNECTIONS
Framing your challenge with naturally-aligned processes creates a meaningful experience. Here's some sample alignments that may help you get started:
| STEM AREAS | ARTS AREAS |
| --- | --- |
| Engineering Design Process | Elements of Art, Music, Theater, Design or Dance |
| Mathematical Practices | Artists' Habits of Mind |
| Scientific Method | The Creative Process |
| ISTE Standards | Media Arts Standards |
HANDOUTS
To make this even more helpful, we created one-pager that you can use when planning your STEAM Design Challenge.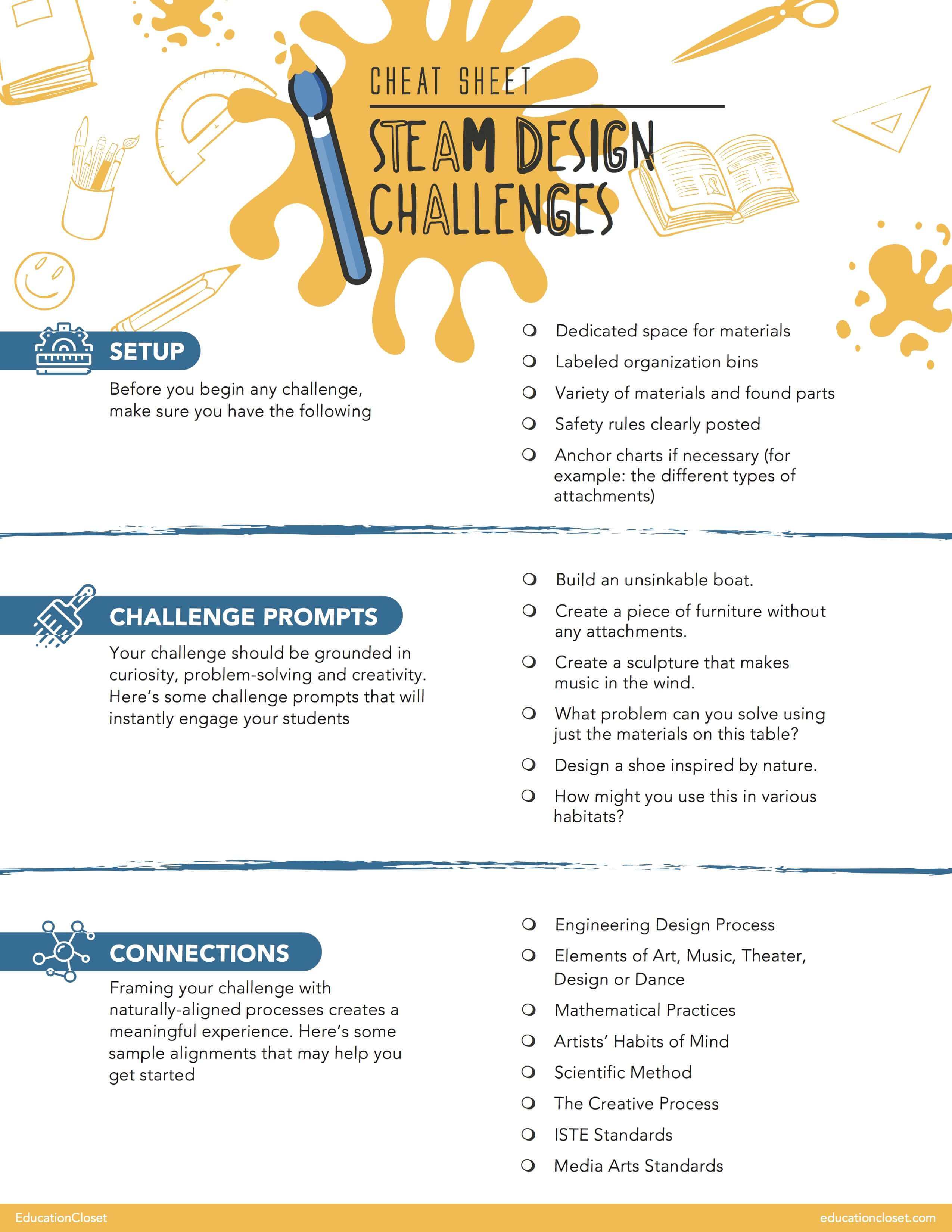 This worksheet, along with a student planner, is available to our Accelerator Members.  If you're not already member, consider joining the hundreds of educators in our community who are getting free resources like these.