Susan Riley | April 2018
IntegratED Lesson Library
Looking for an arts integrated lesson sample from our IntegratED Curriculum? Sometimes, we just need to see something from our grade level or content area to see if it's the right fit.
We totally get it!  So we've gone ahead and created a whole new sample lesson library for you to explore.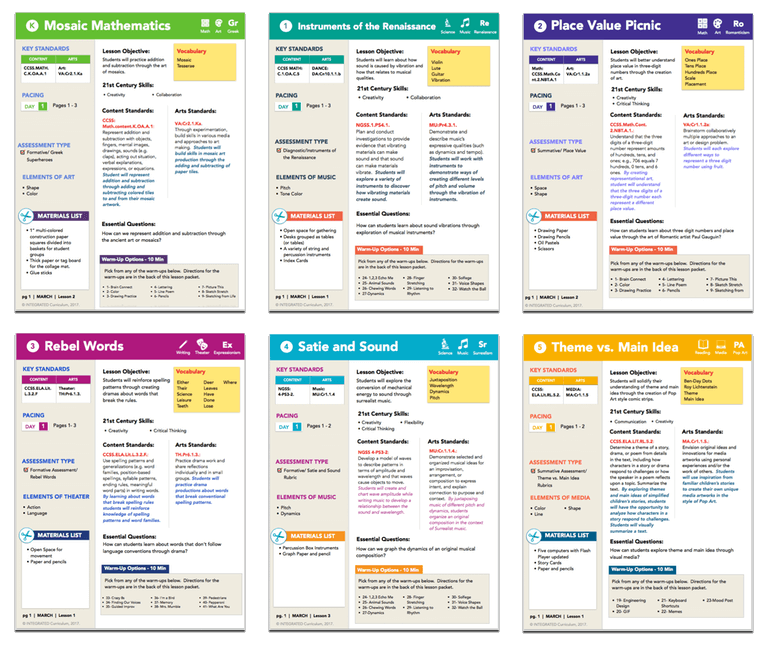 Inside you'll find:
A FULL sample lesson from each grade level, K-5.
A list of all lessons available in the curriculum for that grade level.
Examples from all content areas: ELA, Math, Science, Social Studies, Art, Theater, Dance, Music and Media Arts.
Samples of the student handouts provided
Teacher rubrics and student assessments for each sample lesson
Comprehensive Supports
And don't forget all the other resources that come with the full curriculum. These are things we can't put in the library, but that come with curriculum access.  Things like PD videos to walk you through the arts and content strategies used in each lesson.

We also include powerpoints for every lessons, so you can simply open it up and use that during your lesson implementation.  And there's a community area right in the platform that helps you connect with other teachers using these resources.
Arts Integrated Lesson Planning
We always have our free arts integration lesson area, but this new library provides you with some of the most comprehensive arts integrated lessons anywhere.  Feel free to access these lessons today and let us know how it goes in your classroom!  We'd love to see the incredible projects and outcomes your students will create.
After you've tried some of these sample lessons, we encourage you to share this curriculum with your administration as a possibility for bringing more of these ready-made resources into your classroom or school.  There's even a section on the IntegratED Curriculum page that helps you make the case for why arts integration works.
Enjoy this new lesson library area – can't wait to see what you create with it!