Susan Riley | March 2013
Classroom Organization Checklist
Need a way to make sure you get everything done as you end the school year?  A classroom organization checklist can be a lifesaver.  Between all of the end of the year activities, teaching and grades, it can be difficult to remember everything you need to do.
To help make this easier, try this simple printable checklist.  There are 20 boxes on this form (perfect for a month in the classroom) and in each box is a task that will take you only 15 minutes to do.  At 15 minutes each day for 1 month, you'll have your whole classroom organized, files cleaned up, lessons refreshed, sub plans created, and materials collected and ordered.  It's just like a fresh new start for the spring!  Additionally, at the bottom of the checklist is a space that you can write notes for yourself on other items that you may like to purchase or ideas you'd like to try for organizing your classroom throughout the rest of the school year.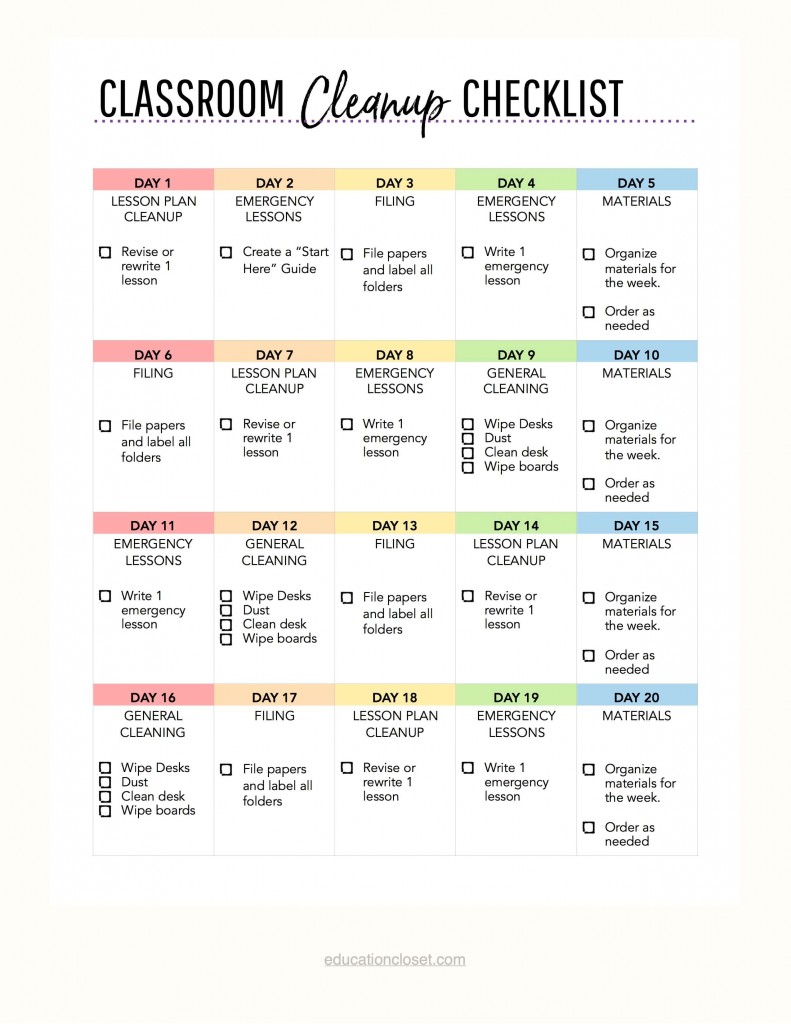 There are 5 areas we're tackling throughout the month:
Lesson plan cleanup
Emergency lesson creation
Filing
Material cleanup
General Cleaning
Each day focuses on one of these five categories and you'll do 1-4 items each day so you can make real progress. Remember: just do one task each day for 15 minutes or less.
The trick is in taking small steps to accomplish a big task.  Whatever you do, don't put this off! It will leave you stressed at the end of the year to try and do everything all at once.
Hopefully, this organization resource will help you to feel less overwhelmed and more empowered to take charge! As an added bonus, you'll be the most organized teacher on the block.
Do you have any organization tips that work well for you?  You can start your own list of tools and tricks to spruce up your classroom. We can dust off our workload and make the rest of our school year more manageable.