Susan Riley | November 2017
Announcing the IntegratED Arts Integration and STEAM Curriculum
It's finally here!  After years of research, development, and testing, we're proud to reveal IntegratED: the first-of-its-kind Arts Integration and STEAM Curriculum Supplement for Teachers.
This is truly an all-in-one solution for anyone who needs a strategic arts integration and STEAM curriculum support. It's currently available for Grades K-5  with middle and high school is coming in the Spring of 2018.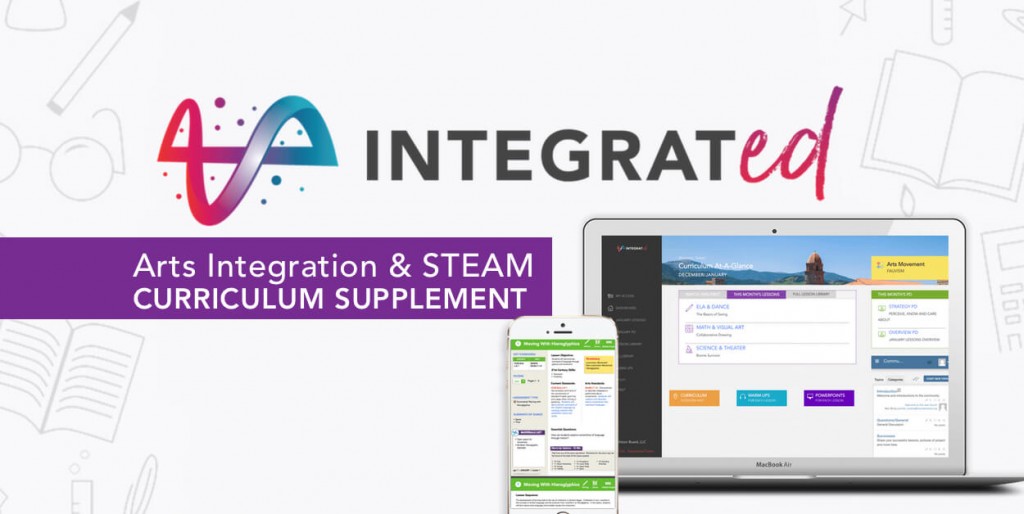 What is it?
IntegratED is an arts integration and STEAM curriculum supplement that is available in an online platform for teachers and administrators.  This curriculum is available as a monthly or yearly subscription to provide you with maximum flexibility and affordability.
What's Included?
We've designed this curriculum supplement to be as comprehensive as possible.  When purchasing a subscription, you'll receive access to arts integrated lessons, assessments, powerpoints, warm-ups, and professional development. 
Here's what's inside:
Lesson plan packs – released every other month.

 

There are 3 lessons in every pack (a total of 18 lessons per grade level).

 

These are delivered in January, February, March, May, September, and November.

 

The lessons are created to be aligned with what you're already teaching in the curriculum during that time of the year.

 

So you can use these as a replacement or as an extension to your current curricular lessons.
Assessments – released with each lesson pack.

 

Each lesson comes with the assessments for the selected standards and outcomes already created.

 

You'll receive a student-version and a teacher scoring rubric.

 

All ready to print off and handout.
Student Handouts – any student handouts or worksheets that are needed for the lessons have already been created and are included in each lesson pack.
Warm-Ups – These are strategies you can easily pull out for the beginning of class or to kick off your arts integration lesson.

 

We have over 40 warm-ups available.

 

Each lesson has a selection of warm-ups that are appropriate for the content in that lesson.
Powerpoints – Each lesson also comes with a powerpoint that you can download and use to present the lesson content in your classroom.
Professional Development – Every other month, you'll receive a new set of PD video trainings.

 

Each set includes a strategy deep-dive and a training for the lessons coming up the following month.

 

Upon completion of viewing each PD video training, you'll be able to immediately receive a personalized 2 hour PD certificate.
I *told* you this was comprehensive.  We want this to be your go-to resource for integrating the arts in your classroom. 
This supplement rounds out your current instruction and helps students make those critical connections.  By subscribing to this curriculum supplement, all of your planning and prep is done!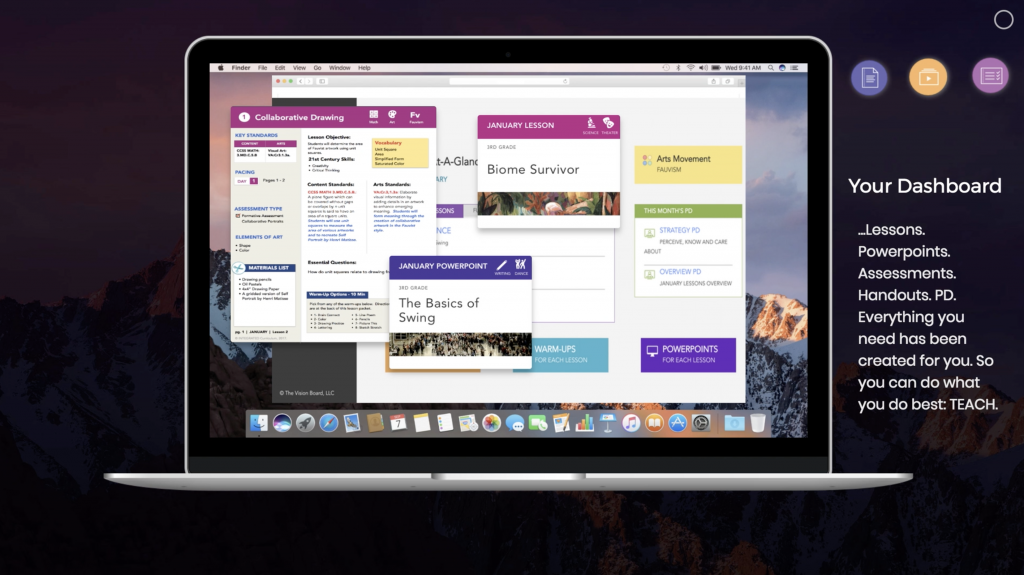 How does it work?
Upon purchasing a subscription, you'll get immediate access to your unique online curriculum dashboard. You'll have something new released on the 1st of each month in your Digital Curriculum Dashboard. 
As soon as you login, you'll see it available in your account.  You'll also have access to all previous content in your lesson and PD libraries.  You can save and print anything inside.
Here's the schedule of content release:
Lesson Packs: Released in January, February, March, May, September and November.
PD Trainings: Released in December, January, February, April, August and October.
How much does it cost?
We're offering exclusive introductory pricing now through November 30th.  You can get access to IntegratED as either a monthly or a yearly subscription option. 
Single Grade-Level Pricing (K, 1, 2, 3, 4, 5): $15/month or $150/year

Arts Teachers Bundle Pricing Grades K-5 (For those who teach grades K-5)**: $24/month or $240/year
** This provides a single license for an educator who teaches all grades K-5.  It is not for an entire school.
School volume pricing is available.  View the calculator here.
After November 30, these prices will increase by 20%.  So definitely lock in your special pricing now.
I know this is a lot of information.  I definitely encourage you to visit the curriculum area and dive into all the details, as well as view a sample of the curriculum. 
If you've been looking for an arts integration or STEAM curriculum, or if you're just looking to save yourself some valuable time – I hope you'll check this out.