Susan Riley | March 2014
Storytelling through Social Media – Free March Master Class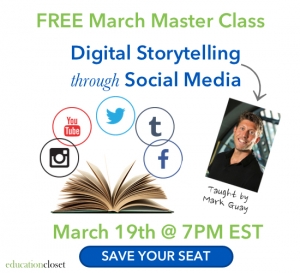 If you're like most educators, social media is a topic of much debate in your district.  Should it be allowed? Should you block certain sites? What social media policies should you have in place?  It's a huge component to 21st century living – and learning! As I've said multiple times, you can't control students' use of social media but you CAN leverage it for learning and advocacy.  One of the ways to do that is through one of the most basic of art forms: storytelling.
Social media is the ultimate storytelling tool.  You can tell long tales (blogs, videos, podcasts) or short ones (Twitter, Facebook, Vine).  You can express yourself in words or in pictures (Instagram, Pinterest, Tumblr).  What's more, the stories that you tell can stand alone or as part of a collaborative series of thoughts and ideas.  What better way to get to make our arts programs visible than through storytelling?
The hard part, of course, is figuring out how to utilize all of these pieces in a way that makes sense for your school.  Social media can be an intimidating toolkit for educators and school districts given the work-arounds many of us face when trying to use it in our buildings.  How many times have you seen that dreaded "blocked" sign?  Plus, what about all the stories of inappropriate use or hacking going on?

That's where this month's free Master Class comes in!  We have master teacher Mark Guay, author of Schools Gone Social, and friend Jessica Wilt joining us from ArtsEdTechNYC to showcase how to use social media in a way that engages using stories to showcase the creative process.  In this 45 minute LIVE session, you'll discover how to leverage various social media tools to use in digital storytelling and advocating for your programs in ways that are safe and meaningful.  Plus, both Mark and Jessica will provide some real-world examples of how this looks in practice.
Join us for this incredible Master Class event on Wednesday, March 19th at 7PM EST by registering for a seat in our Google Events room, using the form below.  You'll be able to ask Mark and Jessica questions live from the event's chat function, and learn about how you can turn social media into your secret sauce for program empowerment and engagement.  Plus, like all Master Classes, you'll have the opportunity to purchase the resource guide if you find it would be useful for your learning library.  We look forward to seeing you in class!