Susan Riley | February 2017
20 Contemporary Black Artists to Feature in the Classroom
February is Black History Month here in the US and it's an opportunity for all of us to celebrate the value that diversity brings.  Particularly in the arts, there can be a harsh reality that our students explore the work of "old, white men" more than any other demographic. To help us break out of that mold, I'd like to share 20 contemporary black artists from visual art, music, dance, and theatre that you can use in your classroom to integrate your content.  These artists are truly breaking new ground – some of them may be brand new to you – and they work in all areas of their fields.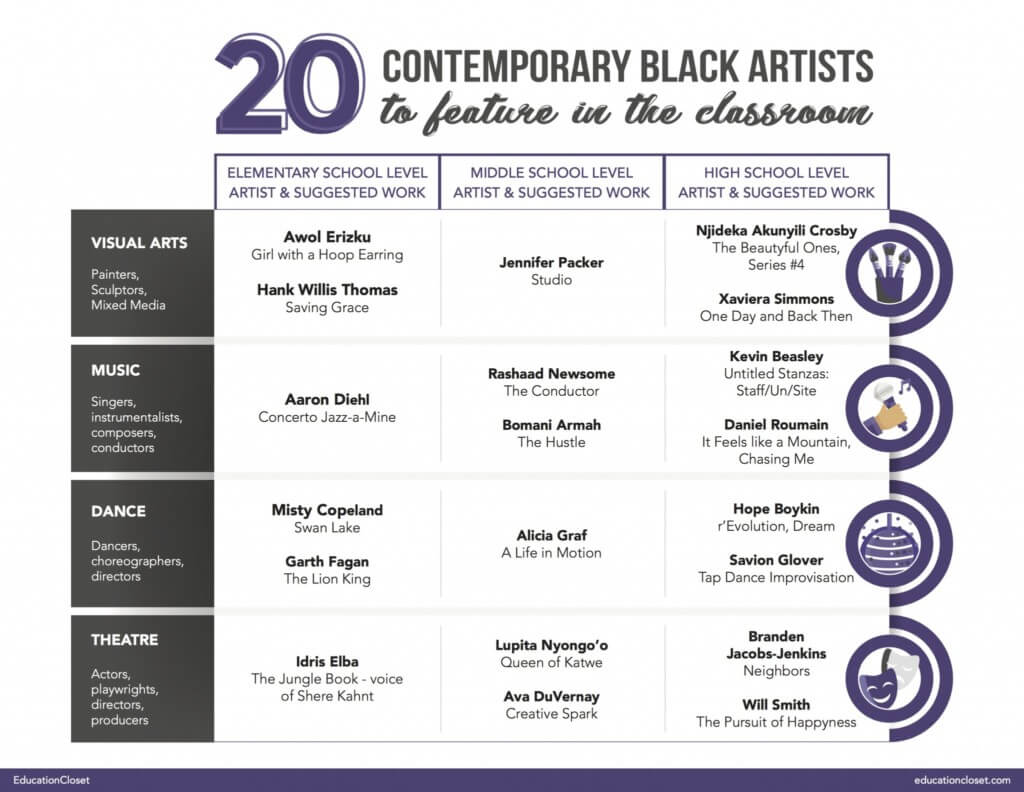 RESOURCE HIGHLIGHTS
You can use this resource in a variety of ways.  Certainly, if you're an art teacher, select one of the artists from this list to explore in-depth and build upon their work.  And if you're a classroom teacher, consider using the work from these artists as a way to dig into deeper themes, ideas, and questions your students may have.
Here are some other tips for getting the most out of this downloadable:
1. Each artist is listed in either elementary, middle or high school and that is based on the suggested work we've highlighted.  You may find that each artist also produces other work that would be appropriate for your grade level.
2. These artists can be studied for their art or can be paired with another content area for integrated study.  For example, you could easily pair Daniel Roumain's work with a study of poetry at the high school level.
3. Consider pairing artists from different art areas (ie: art and music) to do an in-depth study on a variety of themes.
While we should never limit when we study diverse cultures, artists or genres, this month does give us a chance to remember and actively share that there are different voices out there.  Voices that look and sound like the students in our classrooms.
Let's take the opportunity this month to explore some new and different ways of expressing the world around us!