You're now able to select from over 6 arts-focused online classes in the most critical topics being addressed in schools today. All courses are fully accredited for graduate-level credit (opens 3 times per year) or for continuing professional units and can be completed whenever you wish.
If taking the courses for CPUs, you'll receive a certificate of hours automatically upon completion of your course.  Join the ranks of educators from across the world who have taken our courses and come back over and over again.  
Don't just survive PD…THRIVE!
Take a Glimpse into the Self-Paced Online Classes Available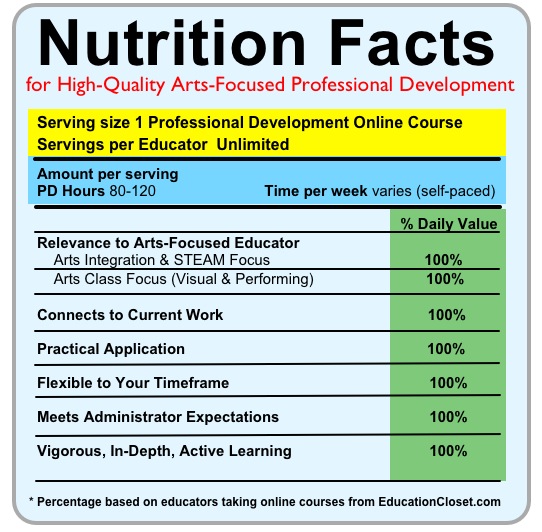 We don't believe in "Junk Food PD" that provides only surface-level information and gives you quick resources, but no real depth of understanding.
We offer courses that provide you with opportunities to dig deeply into how the arts can authentically connect throughout educational changes, without sacrificing their integrity.
You'll leave not only with resources to use immediately in the classroom, but also with meaningful comprehension and application to YOU.
Feed your mind and career with the high-quality professional development it deserves!