Susan Riley | July 2014
The Connectivity STEAM Conference Pre-Conference is OPEN!
Today we are thrilled to share that our Pre-Conference for the 2014 Connectivity STEAM Conference: gathering STEAM is OPEN and FREE to anyone who would like to "attend" and view.  We had so many excellent submissions for STEAM conference presentations this year that we couldn't fit them all in.  Rather than turning away these presentations, we decided to open up a free pre-conference this year for anyone who would like to learn more about STEAM.

Additionally, for those of you who are on the fence about registering for the main conference event on July 22nd, this also serves as a great preview of what is to come.  Several of our pre-conference presenters had so much information to provide that they are sharing some of their content here as a preview of their larger presentation at the STEAM conference.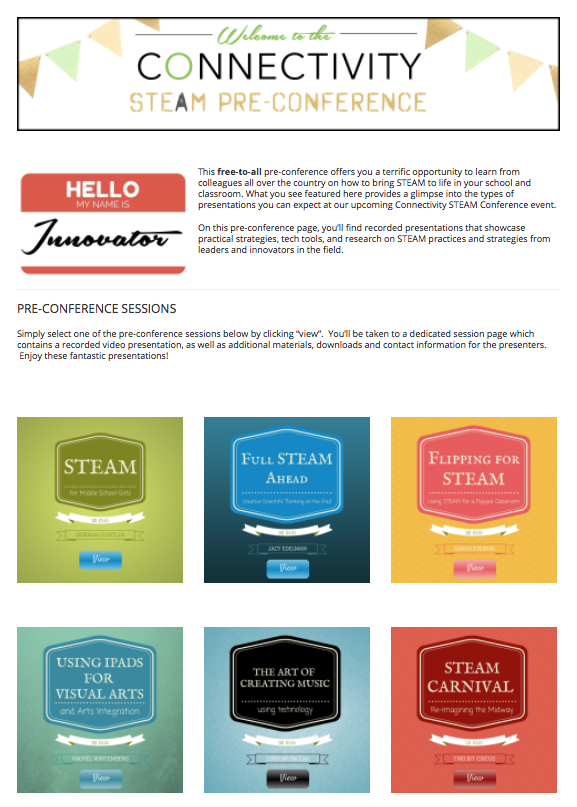 How it Works
Because the pre-conference is free to attend and anyone can access it, you don't need a special password to log in.  We've created a dedicated page for our pre-conference sessions which you can enter at any time.  Here, you'll find video presentations that vary in length (between 15-30 minutes) along with their corresponding handouts and additional resource information.  This is a permanent page so you will be able to come back as often as you'd like to access these resources.  Each presentation has it's own dedicated page, so you can ask questions or leave comments for the presenters or other viewers in the comments area, providing you with a way to connect and network with others.

We will not be able to provide continuing professional development hours for the pre-conference since there is not a login area.  However, you can use these presentations as professional development in your schools or districts through a staff meeting or as part of a "video/book club".  If you are looking for professional development hours, our main STEAM conference event on July 22nd provides you with a certificate for 8 hours of CPUs.
Similarities and Differences to the Main STEAM Conference Event
This is definitely a great preview for our main STEAM conference event on July 22nd.  Here's how the two compare:
Similarities
Video presentations
Ability to connect with the presenters and other viewers
Downloadable resources
Valuable content!
Access anywhere, anytime – completely online
Archived presentations (the pre-conference is a permanent page, and the main conference presentations are archived for viewing for one full year so if you can't make it on July 22nd, you'll still get all the content)
Differences
The main STEAM conference event is being hosted through a 3D WebEx Platform – Still easy to use, but more interactive than a single webpage
Some video feeds will be LIVE feeds during the conference, while others are pre-recorded.  All presenters will be available for LIVE CHAT during their presentations
The main conference will have an exhibit hall with samples, resources, and the ability to connect one-on-one with organizations you love (like Blick Art, Gelli Arts, and Edutopia)
The main conference event includes product demonstrations, using products included in the free STEAMpack included in the main conference registration
Many giveaways and networking opportunities are available during the main conference event
Interested in registering for the main conference event?  Registration closes on July 18th – don't miss your chance to attend a conference all about STEAM that is flexible and created with your needs in mind!  Register today to get all of the benefits of this premier conference event.
Ready to step into the pre-conference?  Let's get to learning with these fantastic presentations!