Dyan Branstetter | May 2017
How to End the Year on a High Note
As school winds down and we end the year, it can bring out many emotions in students and teachers. Many of us are excited for the freedom and relaxation that summer can bring. There are also many students who, due to an unstable home life, lose their routine, structure, and the consistency of a reliable adult once the school year ends. There are a few ways that we can help students, both the overly excited and reluctant, to transition into the summer months.
Help Students Leave a Legacy
Whether you have a class moving up to another building or just to the next grade, a great culminating event is to plan a legacy project. This could be large scale or small, but it is something that will stay in the building long after those students move on. As students enter their next stage of life, they will remember that they are always part of your class (or school) family.
Large-scale legacy projects such as collaborative artwork and gardens are wonderful, but they aren't something you can pull off on a whim. This would be something to think over the summer so that you can plan it throughout the school year. If you're looking for a smaller legacy project to do at the end of the school year, some can take place without much planning or preparation, especially now that students are at the peak of their grade level. These could be completed collaboratively as a class or in small groups.

Small Scale Legacy Projects:
Use Adobe Spark Video to create a preview of your classroom for next year.

Have students generate a list of procedures, tips, and special events. Have students form small groups according to interest in the items. Then, each group can draft and record a short video clip about their topic. Not only will this year's class love the fact that next year's class will see it, but next year, your incoming students will be more engaged and comfortable while learning about their new classroom. Students can import music that enhances their video, or include a song that was meaningful to the class.

Small scale collaborative art

Last year, our graduating 4th graders repurposed the empty watercolor paint ovals. Each student designed one and added his or her picture to another one, and then students put them together in a mural above our art room door.

Create an ABC book about the classroom:

ABC books are not just for primary grades! As a class, post a huge alphabet board for students to brainstorm everything related to the school year, acrostic poem-style. Assign each student a letter, and that student is responsible for creating a page of the ABC book. (OR do less than 26 pages, and call it "Tips for Grade ____…From Someone Who's Been There".) This could be done with technology with the app Book Creator, or with paper and your choice of art supplies. Scour your library for the many examples and formats of ABC books to use as mentor texts. My favorite was written by Kristin Joy Pratt when she was only 13 years old: A Swim Through the Sea.

Find resources for planning an ABC book here. Make sure to scroll to the bottom of the website for free printable templates and graphic organizers.
Reflecting on Growth and Learning
This time of year is also perfect for reflecting on the learning and growth that took place throughout the school year. Teach students the difference between reflecting on growth and reflecting on grades. Without that mini-lesson (and a few more to really let it sink in) students will just look at grades, presenting how they once had a 77%, and now they have a 92%. For our reflections, I have banned comments and reflections on any scores. I've tried to train students to find growth in their actual work. At first, they notice neatness, handwriting, and spelling. As they have more practice, they begin to notice their thought process or new skills and concepts that they now know and didn't prior. This reflection is the ultimate proof of that growth and mastery.
If you've been saving student work throughout the year (or even just from the quarter), pass all of it back to the students. I started using the app Seesaw this year, and it is perfect for this type of reflection no matter what grade level you teach. (Yes, even kindergarten, and yes, even high school!) Students can snap a picture or make a video of their work from the beginning of the year compared to their work now, and point out the growth they notice. In Seesaw, this can be done with a voice or text caption. They can also share it with their parents or via printed QR code. Find out more about Seesaw here. While it doesn't have the same format, this type of reflection can also be done in presentation programs like Buncee or Google Slides.  
Here's a helpful handout to remind students how to caption their work: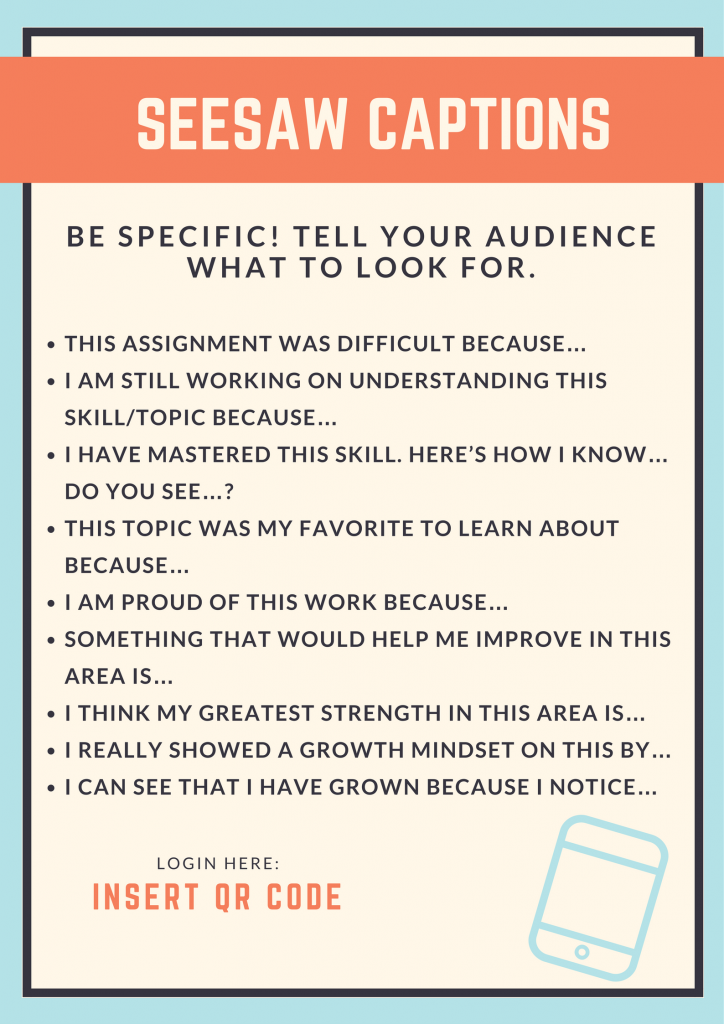 Don't Fight What's Pulling Them
Yes, it is difficult to engage students as the weather gets nicer. We as teachers are exhausted from the pressures and demands of the school year, and we are ready for a break! This can cause even the most seasoned teacher to assign some busy work to either fill time or to keep students, well, busy. This will almost always backfire. Busy work may be a temporary fix, but will only disengage students. Students finish and need more, plus there's no buy-in because they know it is just filler. In addition, it takes the teacher time to actually find and prepare the busy work. Why not spend that time in a more productive, best-practice effort that gives you more than just engagement — it gives your students fulfillment, which nearly eliminates your behavior problems.
The trick to avoiding aggravating busy work: Plan ahead. Create or find an authentic, arts-integrated, project-based unit that encompasses everything students have learned throughout the year, or use one of the ideas mentioned above. With these types of projects, most of the heavy preparation and planning occur prior to the introduction of the project. Each day during the project, the teacher's role is the facilitator while the students take the lead. This frees you to spend precious moments of planning time completing end-of-year tasks. It's not that it takes less time, but you can structure your planning differently. And for the nice the weather that's resulting in drifting focus? Simply add an outside component that requires being outside as part of the project.
Need a unit? Find our student-ready Arts Integrated and STEAM units here.
Make the most of these last few weeks. Your students are at the most independent and knowledgeable point of their year. Take advantage of that and end on a high note. It will leave you AND your students happier, more fulfilled, and it will make time fly.