Susan Riley | January 2016
Online STEAM Conference Schedule Announced!
Today we are finally able to release our schedule for the upcoming Winter 2016 Online STEAM Conference And Arts Integration on February 6, 2016.  As you can see from the sessions listed below, this is going to be a jam-packed day with Perfectly Practical PD from teachers, for teachers.  Take a look: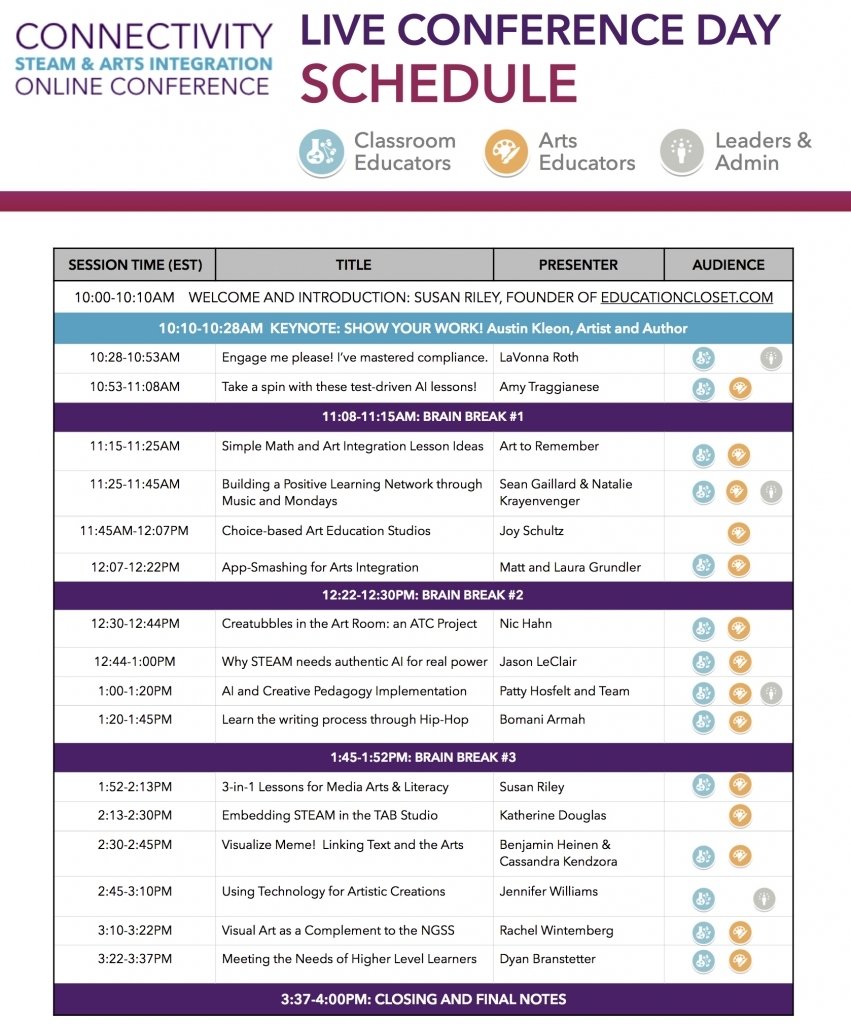 HIGHLIGHTS OF THE ONLINE STEAM CONFERENCE
Some of the big highlights from the day include:
Keynote from New York Times Bestselling Author Austin Kleon
How to integrate STEAM into the TAB Classroom from founder Katherine Douglas
Examples of Arts Integration and STEAM Lessons that are working in classrooms right now
Fun Brain Break segments (so you won't get bored or tired from a full day online) and lots of giveaways!
GIVEAWAYS
Speaking of giveaways, all registrants are eligible to win one of our incredible prizes, including:

Strategy books set
Steal Like an Artist Journals
Google Chromebook
Kindle Fire
and (5) 3Doodler 3D Pens!
DONOR'S CHOOSE FUNDING AVAILABLE
Have a STEAM or Arts Integration Project that you'd love to do in your classroom, but don't have the funds?  Now's your chance!  We're providing $5,000 in funding to 3 lucky classrooms who have a STEAM Dream that needs to take off.  All conference registrants are eligible to participate and voting takes place the entire month of January.  Find out all of the details here.
NEW BREAKOUT LIBRARY
Last (but not least) we have added a whole new breakout library to our on-demand site.  This way, you can dig deeply into strategies to integrate STEAM that pertain to YOUR content area specifically.  We have over 10 presentations available with handouts for classroom teachers, arts teachers and administrators.
There's a LOT going on for this winter's STEAMiest online conference and we hope you're planning to join us.  We're already over 1,000 registrants – we can't wait to see you there!  Get all the details and register here.