Susan Riley | November 2015
2016 Winter Arts Integration & STEAM Conference Now OPEN!
Great news!  The 2016 Winter Arts Integration and STEAM Online Conference is officially open for registration.  This winter's event will be held live starting on February 6, 2016 and you'll be able to access everything for a full year through our conference on-demand site.  We have so much that's bigger and better about this conference – check out all these details:
STEAM CONFERENCE HIGHLIGHTS
This is the ONLY online conference dedicated to Arts Integration and STEAM.  Each conference, we have teachers, leaders and teaching artists that share tips, lessons and fresh ideas that are working right now in classrooms all over the world.  You'll get a front row seat with over 1,000 other educators who are excited about integrating the Arts.
Plus, since it's all online, there are no travel expenses or the stress of getting a sub and writing sub plans.  You can access the conference from the comfort of home (or anywhere else) with any device and an internet signal.

Can't make it to the live day event?  That's okay!  The entire conference is archived for you in a secure on-demand site.  So you can watch every session and download every handout for a full YEAR after the event.
NEW FEATURES:
A live conference day with 18 sessions from your favorite teachers and leaders
10+ additional sessions in our new breakout library
A streamlined and interactive on-demand site

The opportunity to

get your Arts Integration or STEAM project fully funded
Interactive exhibitor booths with new partners (including the amazing 3Doodler!)
PLUS….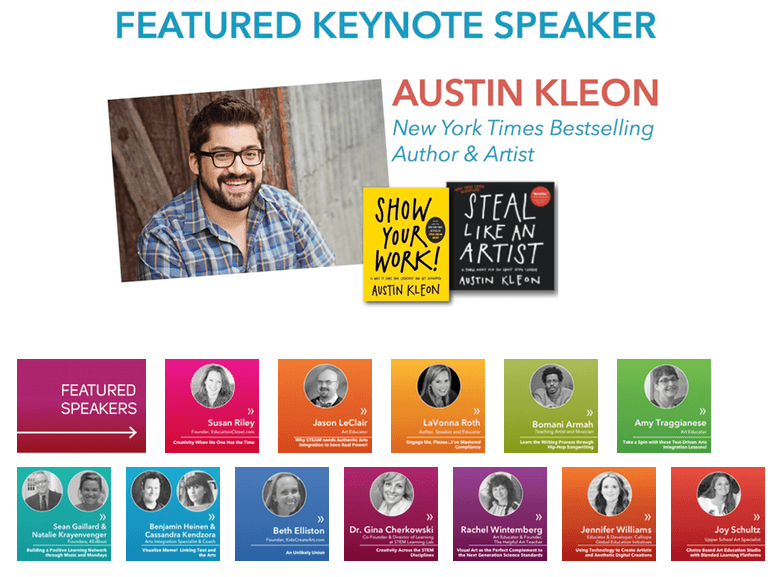 That's right!  This conference, we will hear from Austin Kleon, author, artist and creativity teacher extraordinaire.  He'll be sharing his insights with us and you'll be able to chat with him live during the event.
NEW! BREAKOUT LIBRARY
You asked, we listened.  After our last event this summer, many of you asked for a series of breakout sessions where you could go deeper into arts integration and STEAM through your own content area.  So this time around, we're providing you with access to an entire Breakout Library of sessions with strands specifically for arts teachers, classroom teachers and leaders.
You'll be able to access those in our on-demand site the day before the live conference and for a full year after the event concludes.  We have over 10 additional sessions for you to choose from, so you'll be sure to get even more incredible ideas.
EXHIBITORS AND OUR FAMOUS TINKERKITS
We have some favorite partners rejoining us (welcome back Buncee, Art to Remember and Wikki Stix!) as well as some new organizations (hello Pacon, Creatubbles and 3Doodler!) who will be sharing some exciting new products and services with you.  The live exhibitor hall this winter will enable you to live chat directly with each partner, so you can ask questions and receive information right away.
PLUS, our TinkerKits are shaping up to have a BUNCH of incredible products, samples, coupons and discounts.  We're already down to the final 250 mailed boxes and after that, we'll have a digital version for all participants waiting for you to open in February.  And you won't believe the kind of giveaways that are coming your way!
Psst….if you want a mailed TinkerKit, I HIGHLY suggest you register quickly.  We're almost out and once they're gone, they're gone.
NEW! GET YOUR STEAM PROJECT FULLY FUNDED
One of the things I am most excited about this conference is our opportunity to give back.  We knew we wanted to help provide more arts integration and STEAM instruction in classrooms, but we didn't just want to send a check to a single organization.  Instead, we decided to fund YOU.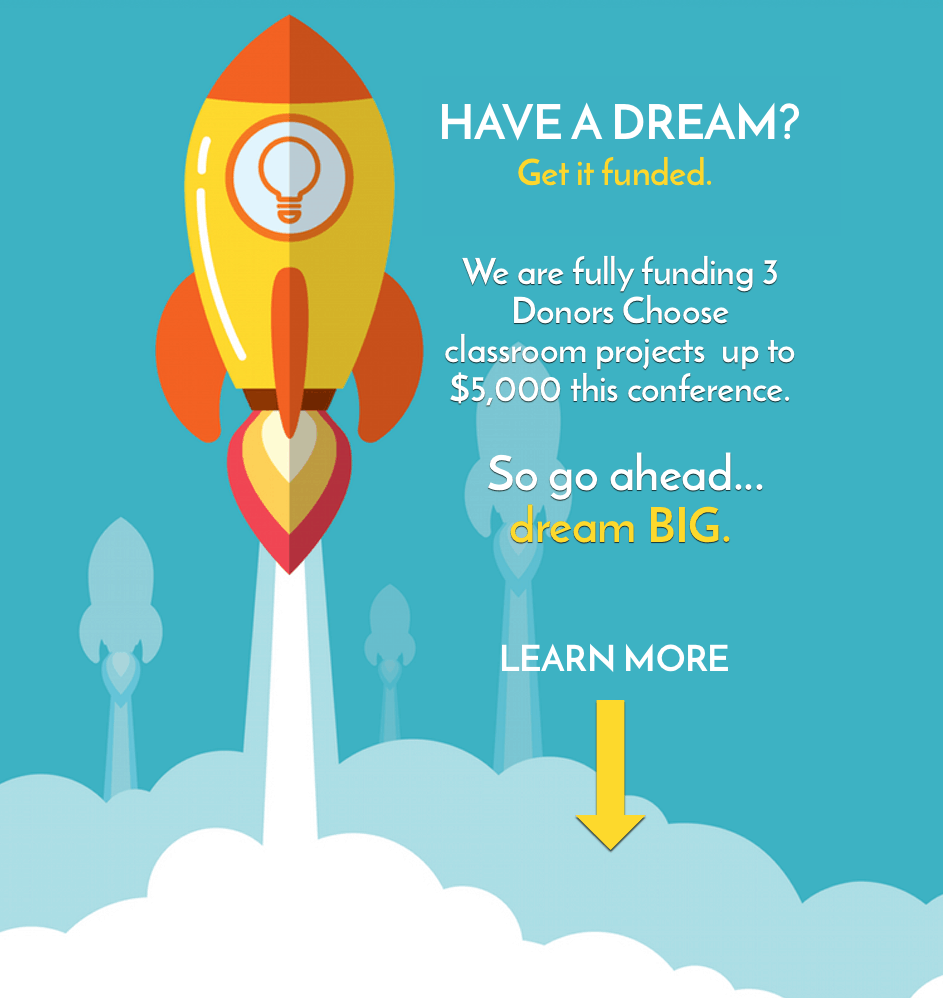 This conference, our registrants have the opportunity to get their Donors Choose STEAM and Arts Integration projects fully funded by EdCloset.  Registrants can submit their Donors Choose projects through our private Google Community site and conference registrants can browse and vote for their favorites.
The top 5 will be highlighted during the live conference event and we'll be voting throughout the live conference day.  The top 2 projects voted by conference attendees and 1 project selected by the EdCloset team will get their entire project funded (with top funding of $5,000).
You can learn all the details about this exciting new component right here – but the most important part is that you must register for the conference to be eligible to receive funding.
We are thrilled to be able to offer this kind of innovative, flexible and connective professional development for you.  I can't WAIT to see you in February!