Susan Riley | June 2015
2015 Summer Conference Schedule Released!
It's here!  The 2015 Summer Conference Online Arts Integration and STEAM Conference Schedule is now available to download.  If you haven't yet signed up for the "hottest" online 2015 Summer conference of the summer, you've only got a limited amount of days left to make it happen.  
Already registered?  Take a look at the schedule of events for the day…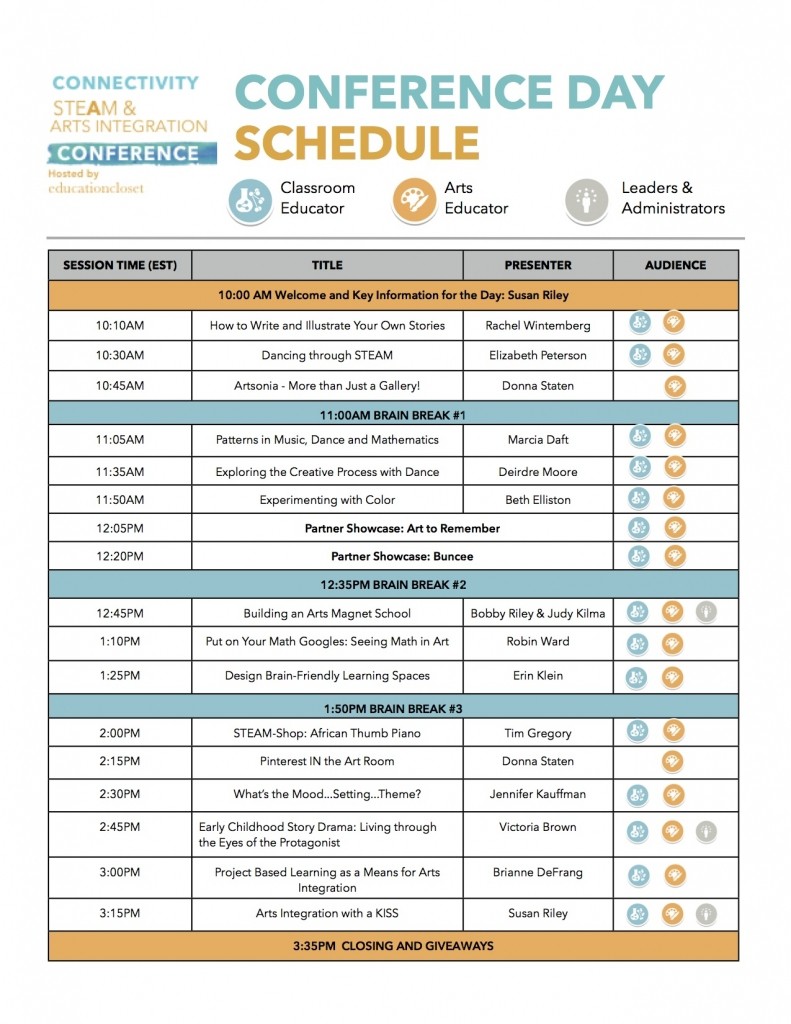 Can't make it to the live event? No worries! All sessions, handouts and exhibitor booths are available in our on-demand archive site for a full year, so you can watch and learn whenever it's convenient for you.
Some Key Highlights
1. The presenters and sessions on this list are absolutely amazing.
We hand-picked this summer's sessions to be the absolute best.  Each session will either be 15 minutes or 25 minutes in length. All of them have ideas, lessons, resources and strategies that you can use right away.
2. Brain breaks are BACK!
Bringing back the brain breaks was definitely one of the biggest requests we received from our winter and 2015 Summer conference.  This time around, you'll have 3 NEW 5-minute adventures to try (which you can use with your own students). They are going to be led by some very special guests (shhhh….we can't tell who yet…)!
3. Pre-plan your day
Use our unique coding system.  One of the ways this 2015 Summer conference is different is that we break down the silos of us vs. them in schools. We're all in this together!  So some of you are arts teachers, other are classroom teachers and still others are leaders looking for ways to bring arts integration, and STEAM to your schools.  We've labeled each session with the targeted audience (as requested by our presenters), so you can pick the sessions that will be most meaningful to YOU.
4. See those giveaways in there?
Thanks to our incredible partners this summer, we're giving away some amazing gifts like a Chromebook, Kindle Fire, full class sets of supplies and a few other surprises.
We're so excited about being able to host this event again and hope to "see" each of you attend this summer!  Registration closes on July 20th (and yes…we accept School POs and Credit Cards) – don't miss your chance to learn on your own terms.  You deserve this kind of professional development!