Susan Riley | May 2014
STEAM in the K-8 Classroom: Conference Preview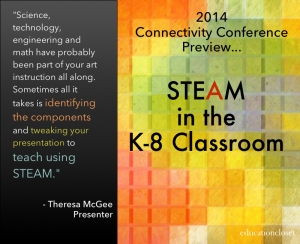 Editor's Note: today we'll be featuring one of our presenters from the 2014 Connectivity Conference, Theresa McGee, as she shares a preview of her session presentation.  Registration for this event is still open and we encourage you to join us for Theresa's presentation and over 15 others!
Although STEAM is a relatively new term in education, incorporating the STEAM education model in your K-8 classroom may not be as difficult as you think.  Science, technology, engineering and math have probably been part of your art instruction all along.  Sometimes all it takes is identifying the components and tweaking your presentation to teach using STEAM.
During my STEAM in the K-8 Classroom talk I will share with you several successful STEAM art experiences used with my students.  Some lesson ideas are simple, others are complex, but all can be modified or enhanced to fit your teaching situation.
We will draw inspiration from modern artists such as Georgia O'Keeffe and Pablo Picasso and connect with the contemporary artists of today including Ruben Margolin, Theo Jansen, Tim Hawkenson, Pu Gong Ying Tu, and Pete Beeman.
I will show you many varied ways to infuse technology into your lessons and still keep traditional media as the core. You will also see how technology can be used as the path by which students learn art concepts and connect with each other.  We will explore the world of augmented reality and collaborative learning as a means to engage your students in art content.
Learn how Google Earth inspired a tree house design unit, how Henry Ford impacted fine art, and how you can merge museum conservation with student collaboration.  I will also show you how I use digital books to compliment art lessons using math and engineering, differentiate instruction.  These books also serve as a great way to advocate for the art program.  Lastly, I will share with you my "Inventions for the World" lesson now featured in the educational section of iBooks.
I have so much share!  In the meantime, connect with me on Twitter
@theresamcgee
– looking forward to seeing you at the
conference!