Susan Riley | April 2014
New resource for STEAM
We have HUGE news to share!  There's going to be a NEW resource for STEAM (Science, Technology, Engineering, the Arts and Mathematics) coming to a bookstore near you.
ANNOUNCING… My new book will be released on May 1st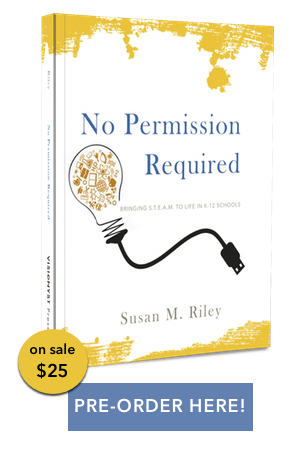 No Permission Required: Bringing STEAM to Life in K-12 Schools is coming on May 1st!  My latest book is packed with everything you've been asking for since the release of STEAM Point last December.  This book is split into three main sections.
Part 1 is all about defining STEAM: what it is, what it's not and the difference between STEM, STEAM and Arts Integration.  Additionally, we go over the process of how to embed STEAM authentically in K-12 schools.

Part 2 is focused on moving from using basic strategies (over 14 are shared in part 1!) to embedding those strategies into everyday instruction.
The final section, Part 3, contains fully developed lesson plans and assessments with grade band extensions using the strategies outlined in Part 1.  That last section is almost 100 pages in length – we really wanted to provide you with the most comprehensive lessons and assessments to make this a practical resource for STEAM you'll turn to again and again.
Case Studies Included!
Maybe the one thing I am most excited about in this latest resource for STEAM are the case studies that are shared throughout parts 1 and 2.  I interviewed teachers, administrators and specialists in schools from across the country that are at various stages of the STEAM process.  From a suburban public school that is in its first year of implementation to an urban charter school that is marking their 13th year of success, these case studies are loaded with real-life challenges and triumphs that act as both a mirror and a vision for the STEAM approach.  I can't say enough thanks to the schools and their staff members for trusting these stories with me so that I can share them with the world.
STEAMteam Ambassadors…Hard at Work!
As we get ready for launch, you have to know that I've had an incredible group of STEAMteam ambassadors that have been reviewing the book, sharing their wonderful insights for making it even better for educators, and providing a positive community of support as we get ready for launch!  Special shout-outs go to Betsy Randall-David, Brenda Cloyed, Kathy Grundei, Lynda Chick, Jennifer Kauffman, Leisa Dodson, Michelle Ridlen, Amanda Juhasz, Corinne Gettys, Brenda Keller, Mellissa Hunt, Leslie Lausten, Meredith Tateo, Susan Alexander, Jan Hennessy, Deborah Knispel, Deborah Gustlin, Kimberly Haynes, Kim Taylor Knight, Rebecca Engelman, Edward Varner, Amy McBroom, Jennifer Lane, Sandra Koberlein, Brianne DeFrang, Roberta Evans, Rebecca Williams and Mar Ollero.  You have made this book extraordinary!
So how do you get one?
The official release date for this new book is on May 1st!  On that date, you'll be able to find this 250 page resource for STEAM in any book retailer worldwide.  Between now and then, we'll share with you the upcoming website, book trailer, and fun promotions going on.  But I have a surprise for you all today!  You can PRE-ORDER your copy from now until April 30th right here on EdCloset for almost 30% off the cover price.  Cover price in stores will be $34.99, but all pre-orders can be placed for just $25 and you'll receive a signed copy of the book as soon as it's released.  Please be sure to include the name you'd like me to address in your signed copy when you place your pre-order (just use the notes section).  Looking forward to sharing and connecting this work with all of you!