Susan Riley| May 2013
The Gold Standard: Valuable Special Ed Resources
As educators, we're always looking for ways to reach and teach every child.
Sometimes, this can be a challenge when looking for ways to meet the needs of our special education students in and through the arts.  We know that the arts are an access point for many students in special education, but due to our own discomfort and lack of knowledge about special education, we may not always connect these students with the arts in ways that are meaningful for them.  That's why we're outlining some valuable special ed resources today: so that you can have a starting place for thinking about connecting the arts with special education in a new and vibrant way.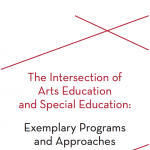 The Kennedy Center has an outstanding written resource guide for the intersection between the Arts and Special Education.  This downloadable file provides perspectives from leaders in the fields of both the arts and special education in ways to embrace and enhance arts education for special needs students.
Truly an inspirational leader in explaining how autistic students think and ways to understand their minds.  Temple herself is autistic and shares her story, as well as strategies for helping autistic students leverage their unique abilities to their advantage.  She speaks about how she thinks and work through pictures, while others think and work through patterns or music.  Her website provides such a wealth of ways in which to connect the arts to learning.

This provides practical, handy tips and strategies for working with a variety of special needs students.  Her posts are hands-on and many can be implemented easily and without a large budget.  Personally, I love the ways she can modify any lesson. She does it in ways I never would have thought of! This is so she best meets the variety of needs of her students.
Here, we see the ways that UDL (Universal Design for Learning) can be embedded into any curriculum or classroom and engage all students, including those with special needs.  I believe in the power of UDL and this webcast/slideshare presentation provides wonderful examples and resources for exploring UDL further.
This is one of my favorites. Paula is a pioneer in working with autistic children. Plus, her blog has a new tip each day with an easy modification to anything you might be working on.  Her book, "You're Gonna Love this Kid!" is something that I turn to time and time again when I need ideas for bringing natural connections to special education students in my classrooms.  She is an incredible resource, speaker and author and definitely someone to keep on your "must-read" bloglist.
These resources are just the tip of the iceburg on what's out there to help connect and deepen education for all of our students, including those in special education.  Use this list as a place to start, and then keep expanding your toolkit as we work to intentionally provide more meaningful opportunities for learning at all levels.