Susan Riley | March 2013
Lesson Plan Resources Refreshed!
Did you know that we have over 500 posts, more than 30 lesson plan resources, and over 20 videos with strategies, tips and ideas?  That's a lot of information!  And after over two years and more than 200,000 visitors, we thought it was time to organize all of this information in a clean, concise format.  Introducing, lesson plan resources….refreshed!
Lesson Plan Page
In case you haven't visited our Lesson Plan Page recently, here's a view of these freshly ordered fantastic resources!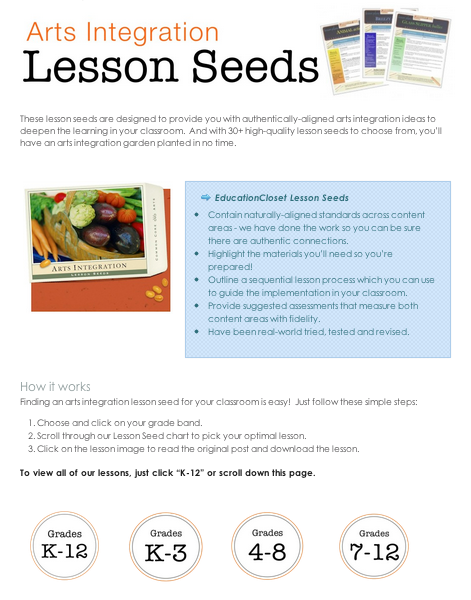 This is the overview page which explains how to search for and download these free lesson plans to your computer.  Then comes my favorite part: the search table!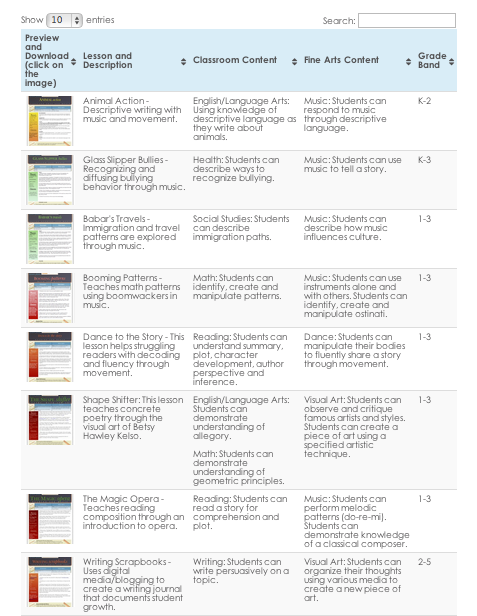 I got this idea from the huge Arts Integration lesson vault at the Kennedy Center's ArtsEdge website.  They have hundreds of lessons there and use a search table to make sorting them easier for visitors.  I thought this was a great idea, but wanted to provide you with a little more information that what they have at the Kennedy Center.  So, in our version of the lesson plan search table, you're able to see a thumbnail of the lesson plan, as well as a lesson description, the content standard, fine arts standard and the grade band where it is best taught.  I love this table because you can reorder the lessons based on any category.
Want to just look for Fine Arts content?  Just click the arrow next to the Fine Arts header.  How about searching by grade level?  You can do that too.  Best of all, you can search for any keyword using the search bar at the top of the table.  I'm in love!  We have also included grade band specific tables to help narrow your lesson search even further.
Video Library
We have also taken some extra time to resort and organize our video library for you.  You can watch each of our 20+ videos from one page, and each have been sorted based upon four major categories: arts integration, Common Core, strategies and technology tips.  Take a look: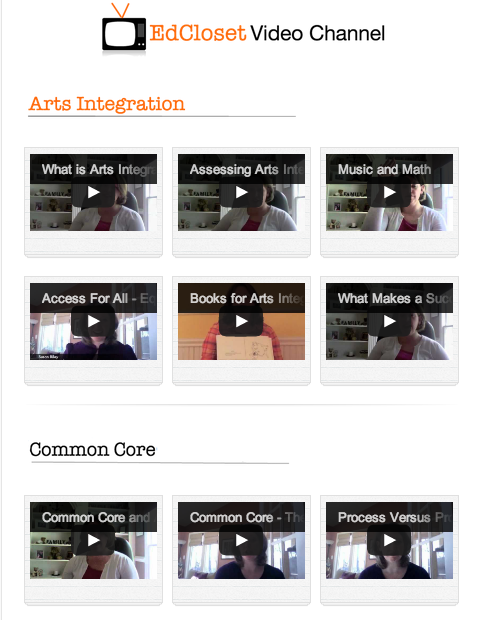 Hopefully, the cleaner format of both our lessons pages and video library will save you time and may even give you an opportunity to see something that you may have missed before.  We'd love to know what you think!  Give us your feedback – we are here for you!