Have you ever been caught off guard and needed to put in for a sub at the last minute?  If you're a teacher with more than 2 weeks worth of experience, I'm sure this has happened to you before.  You then have to scramble around to try and find your emergency sub plans (if you have them prepared) or to write a quick set of lessons before your sub arrives.
Meanwhile, you're probably trying to do this when you already don't feel well or are in a hurry and that can lead to a disaster in your classroom.  Your students don't deserve that and you don't deserve the headache and lost time that rushing is going to cost you upon your return.  Instead, let's be proactive and get you the organized teacher everyone wants to sub for!
Have an Emergency Folder
If you don't already have one of these, it's a must-do.  Create an emergency folder with 2 different sets of lesson plans for each class that you teach.  These should be generic lessons that extend and deepen something you've already worked on with your students.  For instance, when I taught music, I used to keep a lesson in my folder for patterns and Bach that was suitable for both grades K and 1.  It was an easy enough lesson for a sub to come in and feel comfortable teaching, but it was also something that reinforced concepts that I would be working on throughout the year.
In my emergency folder, I had lesson plans like these for grades K-5.  Why 2 different lessons?  Sometimes, you don't get better in a single day.  It's always a good idea to have a backup.  I liked for my emergency folder to be bright red and it had a label that clearly marked it as a sub folder.  It always sat on the corner of my desk, so even if I couldn't make it in the next day, there were high-quality lessons waiting for my students.

Go Digital
I l-o-v-e-d this idea when I saw it on Pinterest: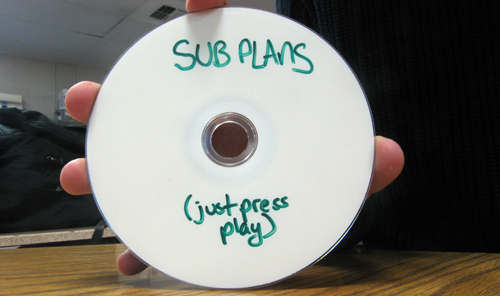 This is such a life-saver.  You can put your entire lesson plan, along with multimedia items like Powerpoints or videos, and an assessment on the disk.  You could even include your master schedule, seating arrangements, and notes from the day.  Just organize them into digital folders, burn them all to a CD and leave it on your desk.  Voila!  A sub comes in, sees the CD with the note "Sub Plans – put me into the computer" and they are ready to go.  Be sure to leave a generic login and password that your sub can use so that they have access to your computer without getting into your personal files.
Make a Start Here Guide
Whether you use an emergency folder or you put your plans on a CD or Thumbdrive, it's always a good idea to have a "Start Here" guide for your sub.  Have a welcome-to-my-class letter, fill the sub in on what they need to know about your students, provide them with a map of the school and the name of one or two teachers that they can ask for assistance if necessary, and a list of any duties or special assignments they need to know about.  This way, they can feel confident that they are meeting your needs and those of each of your students.
Taking a little extra time to prepare for the unexpected will leave you feeling better about being away and will leave your sub with the tools they need to allow for a smooth and productive day for everyone.  The extra work is worth the peace of mind.  Enjoy!